Douglas Fir Vert Grain 85/15
12-20+ Grain Per Inch - AWESOME
Douglas Fir, found growing in the Pacific Northwest of the United States and Canada, is the most abundant species in the region. Douglas Fir can be found around world as beams, soffit, siding, cladding, and more. Vertical Grain 85/15 Doug Fir is a quarter sawn cut, with a high density of growth rings, up to thirty per inch. The 85/15 is a premium grading measure, meaning 85% of the board is clear #2, and 15% of the board is clear #3.
The grain tightness of 85/15 is what's truly desirable about this grade of Douglas Fir; boasting a grain count of 12-20+ per inch.
Character of VG Doug Fir 85/15:
Not only is Douglas Fir one of the most sustainable and durable softwoods, it's also one of the most beautiful. The 85/15 premium grading the density of growth rings produces a stable, clean, and modern looking board. The vertical grain produces a clear datum along the board, making it a favorite for architects and designers all round.
Color:
The color ranges from light yellowish-brown to a darker amber-brown with knots being a bit darker, but for the most part it's a consistent color. It stains well, but most designers choose to clear coat it or oil it.
Common uses for VG Doug Fir:
Exterior Wood Cladding
Interior Wood Siding
Wood Trim
Furniture
High End Doors
Windows and Window Seals
Plywood
Facia
Fun Facts about Douglas Fir:
The Douglas Fir can live up to 1000 years, meaning, a Douglas Fir could have been alive in the early middle ages.
Many species of wildlife rely on the Doug Fir as a staple of their diet. Bears for example, scrape the bark off the tree and eat the sap layer.
Seeds of the Douglas Fir are an important source of food for smaller mammals. Moles and Shrews both live off the seed of the Doug Fir, but the Chipmunk truly makes it's living of the see, devouring an estimated 65% of the seed crop annually.
The Christmas tree in your home, is most likely Douglas Fir
The bark of Doug Fir is so thick, it saves the tree from forest fires.
view gallery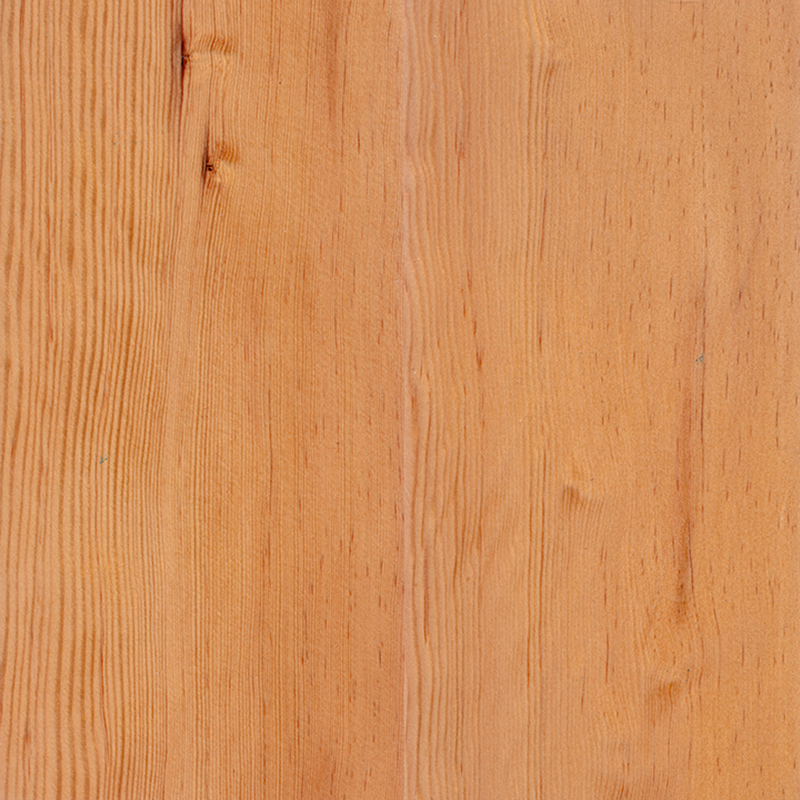 We typically offer
VG DOUGLAS FIR 85/15

in the following sizes and grades:
| Scientific | Sub-species | Grade | Features | 4/4 | 5/4 | 6/4 | 8/4 | 12/4 | Plywood | Circle Sawn | Live Edge | Beam |
| --- | --- | --- | --- | --- | --- | --- | --- | --- | --- | --- | --- | --- |
| Pseudotsuga menziesii | Douglas Fir | Vert Grain 85/15 | Very tight grain | | | | | | | | | |
Scientific information about
VG DOUGLAS FIR 85/15

:
| | |
| --- | --- |
| Common Name(s): | Douglas-Fir, VG Doug Fir, VG Oregon Pine |
| Scientific Name: | Pseudotsuga menziesii |
| Distribution: | Western North America |
| Tree Size: | 200'-250' in height; 5'-6' in diameter |
| Average Dried Weight: | 2.66 lbs/bdft |
| Janka Hardness: | 620 lbf (2,760 N) |
Check out some species other than
VG DOUGLAS FIR 85/15
Contact us Have questions about our products?
Give us a call or shoot us an email, we can help you find the right kind of wood to make your project look fantastic! From kiln dried lumber to flooring, molding to butcher butcher block counter tops, we've got you covered.
WOOD IS UNIVERSALLY BEAUTIFUL TO MAN. IT IS THE MOST HUMANLY INTIMATE OF ALL MATERIALS FRANK LLOYD WRIGHT, AMERICAN ARCHITECT