THERMAL ASH
Thermally modified Ash is a near perfect wood for exterior projects. It holds up well in wet environments, mills easily, and cuts clean, making it perfect for decking and cladding.
Thermally Modified for Maximum Sustainability
Thermal modification begins by heating the wood to 450º Fahrenheit in a vacuum with all oxygen removed from the space. While Ash will combust at 300º Fahrenheit, the removal of the oxygen prevents combustion and allows the sugars in the wood to caramelize. The caramelizing of the sugars gives the Ash the dark brown colors and essentially begins a petrification process which makes the wood water resistant. The life expectancy of cladding and decking made from Thermal Ash is about twenty five years.
A Beautiful Dark Brown
The color tone of Thermal Ash is a fantastic range of deep browns and brownish red hues, think about the crust of Crème Brûlée. The caramelized sugars create these colors throughout the wood, making it an absolutely gorgeous wood.
USAGE
While Thermal Ash can be used for just about anything, it's weather resistant properties make it perfect for exterior wood cladding and wood decking. The most popular uses for Thermal Ash are:
Exterior Wood Cladding
Wood Decking
Exterior Furniture
Wood Siding
Shutters
Wood Trim
Moulding
Cabinetry


view gallery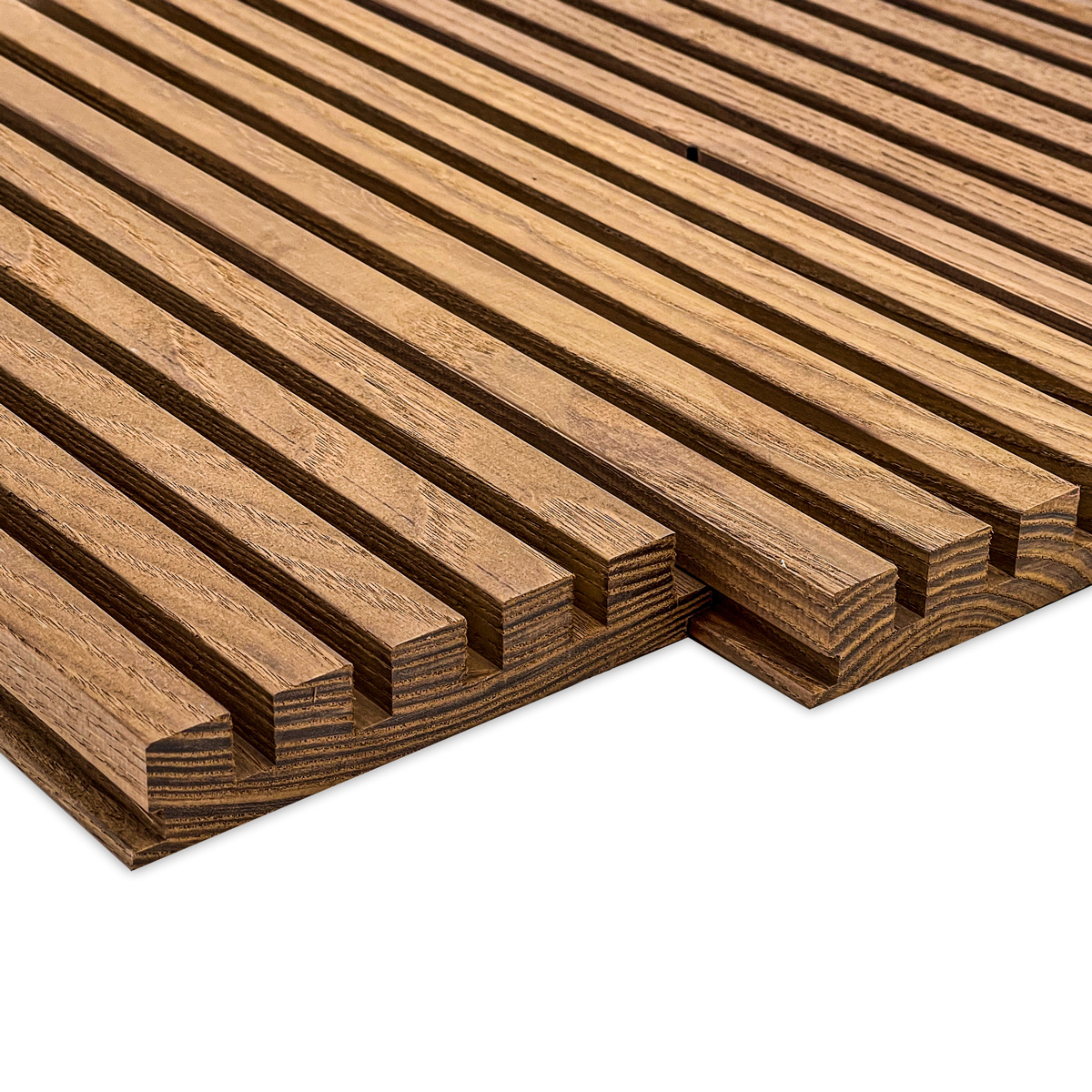 We typically offer
Thermal Ash

in the following sizes and grades:
| Scientific | Sub-species | Grade | Features | 4/4 | 5/4 | 6/4 | 8/4 | 12/4 | Plywood | Circle Sawn | Live Edge | Beam |
| --- | --- | --- | --- | --- | --- | --- | --- | --- | --- | --- | --- | --- |
| Fraxinus Americana | Ash | Clear | Water Resistant, Dark Color Tones, Beautiful Grain | | | | | | | | | |
Scientific information about
Thermal Ash

:
| | |
| --- | --- |
| Exterior Wood Cladding and Siding | Exterior Wood Decking |
| Molding and Trim | T/G Siding and Paneling |
| Butcher Blocks | Plank Tops |
Check out some species other than
Thermal Ash
Contact us Have questions about our products?
Give us a call or shoot us an email, we can help you find the right kind of wood to make your project look fantastic! From kiln dried lumber to flooring, molding to butcher butcher block counter tops, we've got you covered.
WOOD IS UNIVERSALLY BEAUTIFUL TO MAN. IT IS THE MOST HUMANLY INTIMATE OF ALL MATERIALS FRANK LLOYD WRIGHT, AMERICAN ARCHITECT